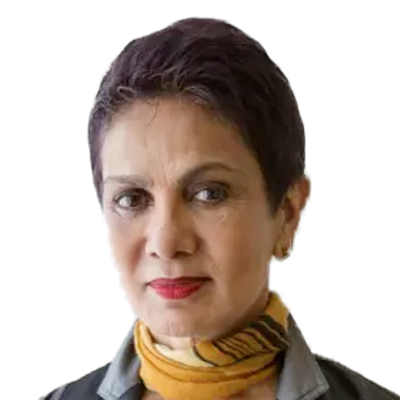 Dr. Azra Raza, M.D.
"Knowing about human genomics is pure poetry. Both poetry and science go for the grand themes of life."
I was introduced to Azra by a fellow modern-day sage, Perry Marshall. Reinvent, my company, sponsored a cancer symposium he was putting together in 2020. He too has a dream of curing cancer. His father died of cancer. I had a call with Azra and Perry, but I missed it. My heart said to pledge her $100,000. I told her I would. She asked that money be used to promote her book, The First Cell, to new cancer doctors, graduating oncologists.
When we decided to hold this Dream to Cure Bikeathon, I wanted to pledge all the proceeds to Azra's research to discover and take out the First Cancer Cell. She will do it. I believe that she will. It is her life's work and mission. This is what she was born to do and she is a free-thinking spirit who will mine the earth's core to find the key that unlocks the cure for cancer.
Dr. Raza is a Professor of Medicine and Director of the MDS Center at Columbia University in New York.
She started her research in Myelodysplastic Syndromes (MDS) in 1982 and moved to Rush University, Chicago, Illinois in 1992, where she was the Charles Arthur Weaver Professor in Oncology and Director, Division of Myeloid Diseases. The MDS Program, along with a Tissue Repository containing more than 50,000 samples from MDS and acute leukemia patients was successfully relocated to the University of Massachusetts in 2004 and to Columbia University in 2010.
Before moving to New York, Dr. Raza was the Chief of Hematology Oncology and the Gladys Smith Martin Professor of Oncology at the University of Massachusetts in Worcester. She has published the results of her laboratory research and clinical trials in prestigious, peer-reviewed journals such as The New England Journal of Medicine, Nature, Blood, Cancer, Cancer Research, the British Journal of Hematology, Leukemia, and Leukemia Research.
Dr. Raza is the recipient of a number of awards including The First Lifetime Achievement Award from APPNA, Award in Academic Excellence twice (2007 and 2010) from Dogana, and Woman of the Year Award from Safeer-e-Pakistan, CA, The Hope Award in Cancer Research 2012 (shared with the Nobel Laureate Dr. Elizabeth Blackburn) and the 2016 and 2019 Recognition Award from Developments in Literacy. Dr. Raza has been named as one of the 100 Women Who Matter by Newsweek Pakistan. In 2015, Dr. Raza was a member of the Founder Group at Jackson Hole, Wyoming, designing Breakthrough Developments in Science and Technology with President Bill Clinton. On December 1, 2015, Dr. Raza was part of a core group of cancer researchers who met with Vice President Joe Biden to discuss the Cancer Moonshot initiative.
She is the author of The First Cell: And the Human Cost of Pursuing Cancer to the Last.
"Each year, the United States spends US$150 billion on treating cancer. Yet as oncologist Azra Raza notes in this incisive critique-cum-memoir, the treatments remain largely the same. Raza wants to see change: eliminating the first cancer cell rather than 'chasing after the last', which is doable with current technologies. Meanwhile, she braids often-harrowing stories of patients, including her own husband, with insights gleaned from laboratory and literature on this complex, often confounding array of diseases."
"Her most ambitious project, though, is the MDS-AML (myelodysplastic syndromes-acute myeloid leukemia) Tissue Repository, in which tissue from every bone marrow biopsy she has taken over 35 years is banked. Founded in 1984, it's the oldest repository of its kind created by a single physician and contains 60,000 samples from Raza's patients, including, painfully, her husband's."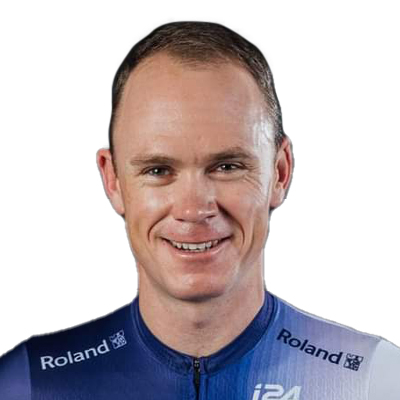 Chris Froome
We are extremely honored to have the heart of a Champion, four time winner of the Tour de France, Chris Froome support our Dream to Cure ride.
After riding many charity rides for cancer, I decided to ride the Whistler Gran Fondo, an epic beautiful 122 km ride with 1900m of climbing. This was a timed race and not just a charity ride, so I started watching videos on the best cyclists in the world and discovered Chris Froome. I was amazed at his mindset, the training he endured and the astounding distances and mountain climbs he completed to become a champion in the most grueling race in the world. In 2016, I decided to get the same bike he had, a beautiful Italian work of art, the stallion of bicycles, the Pinarello F8.
In November 2019, after riding 160 km for a cancer charity ride, I asked my friend Paulo Saldanha, CEO of Powerwatts, to coach me to ride faster for my upcoming Gran Fondo Whistler ride. He told me he was too busy as he was going to be the Director of Performance of a pro cycling team in Israel. Then he asked me if I wanted to be a Partner on the Israel team as the main Partner, Sylvan Adams, a billionaire philanthropist, was looking for a Canadian partner. I told Paulo that it sounded expensive and that although I had just written in my journal that I dreamt of sponsoring amateur Canadian cyclists to become pro in the next ten years, this seemed very sudden.
I had been praying about being connected to Israel in the past and then it dawned on me that this was an answer to my prayer and it also combined cycling. I had never even contemplated such a combination and so had not recognized the answer and opportunity. Although it did not make much financial sense to me, I took the leap of faith and signed on as a Partner to Israel Startup Nation in 2020.
Then Sylvan called me to tell me that we were signing Chris Froome to the team. I couldn't believe it. Chris Froome on our team? Wow. I had the chance to meet him in Israel and I rode with him around the Sea of Galilee. We talked about life and sports in Jerusalem and swam in the Jordan River together. It was surreal. We even went to the President of Israel's house. Cycling opened up all these doors across all different nations. Sports is a natural conduit to bridge all people together.
Chris Froome hails the world as one of the greatest cyclists of this generation, winning the Tour de France four times, the Vuelta twice and the Giro d'Italia in 2018. Chris is the first cyclist to achieve a Grand Tour double in a decade and the first to hold all three titles since 1983. He also won 2 Olympic medals for Great Britain in 2012 and 2016.
While he may have all these accolades, when I rode with Chris in Monaco, I discovered a gracious, noble human with a will to do his very best for not only himself, but for others. He is like a noble ambassador, gracious in his manner with everyone who recognizes him–from children to cycling fans to Presidents, he embraces everyone.
The Dream to Cure Bikeathon
Ride with Chris Froome and help stop cancer at the first cell
Sat, Sept 23rd, 2023
Port Moody, BC
(40 min from Vancouver)
Sign up now!